Payment & Security 🇨🇦
Your payment information is processed securely. We do not store credit card details nor have access to your credit card information.
Description
The Bauerfeind MalleoLoc L3 Ankle Brace is a revolutionary orthosis designed for one-sided stabilization of the ankle, catering to both acute injuries and chronic conditions. Its unique adjustability makes it a versatile solution for multi-stage treatment, allowing for tailored levels of stabilization as per the healing progress or individual requirements. The brace combines an L-shaped shell, securing straps, and a muscle-activating compression support for comprehensive ankle protection. The slim design of the MalleoLoc L3 ensures it fits seamlessly into narrow everyday and business shoes, making it an ideal choice for active individuals. Whether navigating daily activities or engaging in light sports, this brace provides reliable support to prevent recurrent sprains and promote natural foot movement. The easy removal of its shell and straps adds to its versatility, supporting a range of stabilization needs from direct to indirect, while its anatomical design and soft padding ensure comfort and effective muscle activation.
Best Used For
Stabilization of the ankle post-injury or in cases of ligament weakness
Adjustable support for multi-stage ankle treatment
Protection during everyday activities and minor sports
Support for chronic ankle conditions requiring variable stabilization
Maintaining natural heel-to-toe foot movement
Preventing recurrent ankle sprains
Comfortable wear in narrow everyday and business shoes
Sizing Chart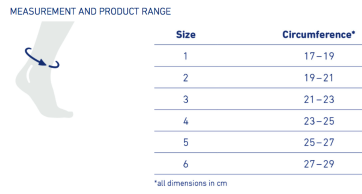 Product Features
One-sided stabilizing L shell with securing straps
Integrated muscle-activating compression support
Three-stage adjustable stabilization for tailored treatment
Slim design compatible with various shoe types
Anatomically shaped for optimal fit and comfort
Removable shell and straps for progressive treatment adaptation
Soft, padded interior with an easy-care microfiber top cover
Material and Quality
The MalleoLoc L3 is crafted with premium materials, combining a robust L shell with a soft, padded interior and a durable microfiber cover, ensuring both stability and comfort for prolonged use.
Product Shipping
This item is eligible for Free Shipping across Canada, providing an accessible and efficient solution for your ankle stabilization needs.
Return Policy
Our hassle-free return policy ensures that you can return the MalleoLoc L3 Ankle Brace if it does not meet your expectations or fit requirements, guaranteeing satisfaction and peace of mind.